#booksmiles
I'm joining my Nerdy Book Club pal, Niki Ohs Barnes, and others to post weekly about a book that makes me smile.
Two weeks ago, Mark, Maddie, and I made a stop at Home Depot. Like two peas in a pod, Mark and Maddie both made a beeline for the riding lawn mowers parked out front, each jumped on separate mowers and said to me simultaneously, "I need one of these, mama."
This week when Maddie and I made our weekly visit to the library, I came across Tractor Day by Candice F. Ransom.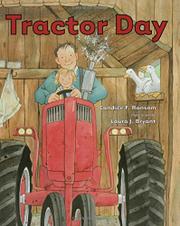 Tractor Day, told through rhyme, describes a daddy and daughter day spent working their property on a tractor. As we read Tractor Day together, I couldn't help but smile as I envisioned a tractor day for Maddie and her daddy.
Leather seat.
Noisy gears.
Up we go!
Daddy steers.

What book makes you smile?