#booksmiles
I'm joining my Nerdy Book Club pal, Niki Ohs Barnes, and others to post weekly about a book that makes me smile.
***** ***** ***** ***** *****
If you are not on Twitter then you really should be. Not only can you connect and learn from amazing educators from across the nation and from around the world, you are able to interact with wonderfully generous children's literature authors. One author that I have connected with is author Corey Rosen Schwartz.
Corey is the author of The Three Ninja Pigs (and Goldilocks and the Three Bears and Hop Plop) and the soon to be released Ninja Red Riding Hood. Both Ninja books are illustrated by Dan Santat.
Remember that Twitter plug? Well, it is through Twitter that Corey asked if I was interested in a F & G of Ninja Red Riding Hood for review.
So, true to her word, Corey sent me a copy of Ninja Red and I LOVED it. I had my #booksmiles on the entire read.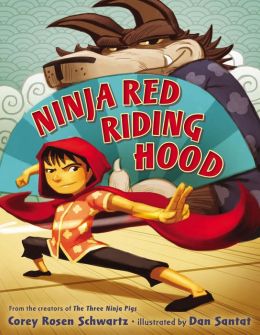 Ninja
Red continues to follow the plight of poor Wolf. After getting his rear kicked by The Three Ninja Pigs
,
Wolf sneaks into karate school thinking that he will gain the skills necessary (beyond huffing and puffing) to fill his empty stomach. As we know, Wolf crosses paths with Ninja Red ... what he doesn't expect is that she, too, has been to Ninja school.
Corey Rosen Schwartz made me a fan with Ninja Pigs and she continues to amaze with Ninja Red. I love how Ninja Red starts with wordless pages showing Ninja Red entering the bamboo forest and then ends with a wordless page of the Wolf exiting the same bamboo forest. This fractured fairy tale is told through rhyme and again includes a female character who knows how to defend and hold her own. Who doesn't love a girl that can kick butt?!
Here's a sample of Corey's fun Red Ninja rhyming:
Soon after, he heard someone knocking.
He called out, "My dear, come on in.
Oh, don't you look good
in your lovely red hood,
but a shame that you've gotten so thin."
Check out the Ninja Red Riding Hood book trailer here:
Ninja Red Riding Hood's book birthday is next week. I have mine ordered & it should arrive on July 10. Celebrate by picking up your copy of Ninja Red and prepare to smile.