It's Monday! What Are You Reading? is an opportunity for everyone to share their book journeys: where we've been for the week and where we plan to go next. To learn more about It's Monday! What Are You Reading? with a kidlit focus, jump over to Jen Vincent's blog,
Teach Mentor Texts
, and Kellee Moye's blog, Unleashing Readers
.
***** ***** ***** ***** *****
That's the sound of the dust I blew off of this blog. I've actually been thinking about my blog quite a bit and missing it. Missing the connection with others and missing my own writing time. The short version of where I've been is that I bit off way more than I could chew for the 2014-2015 school year. That bite had a ripple effect to every other aspect of my life. I'm still a reader, but I found myself Tweeting less frequently, missing out on Voxer conversations, and the Buzz became dormant. This summer, I took some much needed time off and played with my daughter and hung out with my husband as much as possible. Again, I have been reading, maybe not as voraciously as I would normally during the summer, but I could still be found with my nose in a book during free moments.
I must say, I'm happy to be back posting for It's Monday! What Are You Reading? When I first started blogging regularly, this weekly post was one that I enjoyed sharing and reading from others so it makes sense that my return would start with IMWAYR. :)
Today, I celebrated my 45th birthday and treasure this book that I received from a very close friend. I look forward to reviewing it later in the week.
In preparation for September's Virtual Book Club on Twitter, I'm reading Jack by Liesl Shurtliff.
While on an impromptu trip to Bi-Mart, I found because of mr. terupt by Rob Buyea. Assuming I finish Jack before the weekend, this one is up next.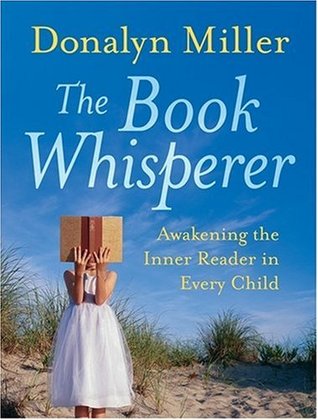 I was introduced to the Book Whisperer more than five years ago when my district's then assistant superintendent handed me Donalyn's book. Donalyn spoke to my heart and articulated everything that I believe to be true about students and reading. She is the one who helped me find my voice in the ways that I advocate for children and teachers when it comes to choice reading. I reread her book before the start of each school year as my "booster shot" for choice reading advocacy.
I am also rereading The Daily 5 (2nd edition) in preparation for supporting teachers that I will mentor this school year. Most of the teachers I mentor, come to my district with some Daily 5 experience and seek support in establishing the procedures and routines for a successful implementation of the structure.
I also begin checking in one-on-one with the teachers I will mentor for 2015-2016. Be ready for a blog post that features what "my" beginning teachers plan to read for their first day of school read alouds. :)
I am looking forward to reconnecting with other IMWAYR bloggers.